If you enjoy working with clients and helping them turn their homes into spaces they love, you may want to consider a career as an interior designer.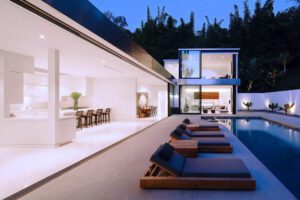 Interior Designers specialize in different areas, such as kitchens and bathrooms. You also have the opportunity to create universal designs, such as entryways that are accessible for people with disabilities.
Interior designers must have a combination of education and experience. Most states require that aspiring interior designers have a degree in interior design or some other field and at least two years of work experience before they can take the licensing exam, which is administered by the National Council for Interior Design Qualification (NCIDQ).
Schools offering programs in this area typically offer degrees at the associate, bachelor's, and master's levels, as well as professional certificates for continuing education. In addition to a formal education, designers need to be familiar with the latest trends in the industry and have a great portfolio.
The best way to find a school that is right for you is to research programs and talk with faculty members. Ask them about the program's length, location, admission rate, tuition and expenses, alumni network, and accreditation.
Many programs in this area also offer a variety of concentrations, which allow students to focus on a specific skill set that will help them stand out from other interior designers when they apply for jobs. This could be a popular choice for those interested in green design, kitchen and bathroom design, or other niche areas of the industry.
Some interior design firms offer internships to students, which can be a great way to gain some experience and make connections. In these positions, you may have the chance to shadow a designer and learn about a variety of different aspects of the job, such as marketing, budgeting, and business development.
Most interior designers also begin their career by working for free, either through volunteering for local non-profit organizations or providing interior design services to small businesses that cannot afford an independent contractor. While this may not pay much, it will give you the necessary skills to be competitive when real-paying jobs come along.
The most recognized certification for interior designers is the NCIDQ exam, which tests designers on a range of topics, including building codes, inspection regulations, construction standards, contract administration, design application, and project coordination. This is a gold-standard certification that meets the same legal and regulatory requirements as the bar exam for attorneys.
An interior designer is a professional who creates comfortable, beautiful, functional, and safe environments for people in homes, office buildings, and other public spaces. They work with their clients to determine the needs and aesthetics of a space, sketching out design plans before selecting the furnishings, lighting, and layout that will best suit a client's lifestyle and style.
They collaborate with architects and engineers to review blueprints, building codes, inspection regulations, and universal accessibility standards to ensure the design meets all legal requirements. They may also conduct research into how a person will interact with a space and the psychology behind it.
In addition, they meet with their clients to identify their desired goals and visualize the space's functions. Once a plan has been approved, they source products and materials to complete the design and set a timeline for completion.
Throughout the entire process, they use computer-aided design (CAD) software to create floor plans and other visuals that show construction elements such as walls and roofs. They also use building information modeling (BIM) software to create three-dimensional visualizations of designs.
Many designers are creative and detail-oriented, with the ability to think about how to best utilize space, color, and movement. They also have good interpersonal skills and can communicate their design vision clearly and effectively to their clients.
Their job duties include designing residential or commercial buildings, such as homes, offices, hospitals, hotels, and other public spaces. They create and oversee the installation of furniture, window treatments, flooring, paint, wallpaper, and other decorative elements to transform a room into a unique and desirable living or working environment.
Employers typically expect their interior designers to have a bachelor's degree in interior design or a related field. Some states require licensure to practice.
Other skills that are important for an interior designer to have are strong customer service and sales skills. These are necessary to secure new business and garner referrals from satisfied customers.
The job of an interior designer is fast-paced, but it can be rewarding and exciting. The Bureau of Labor Statistics projects employment growth for interior designers at 4% from 2018 through 2028. This is slower than the overall employment growth rate for all occupations, but there are still plenty of opportunities.