If you're considering making a renovation in your kitchen, consider this: it will increase the value of your home. It's the heart of the home, so renovating it will not only make your cooking space more attractive but also add to the home's value. Although kitchen remodeling will increase the value of your home, you won't see a full return on your investment. Here are some steps to take to plan your kitchen remodeling project: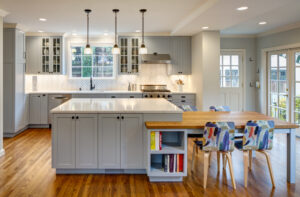 First, you need to know what the average cost of kitchen remodeling is. It's estimated that a major renovation will cost around $65,000, and you will recoup at least 62% of that amount when you sell your home. On average, homeowners are satisfied with their kitchen to remodel and rate the experience a ten on the Scale. However, this number is likely to vary greatly, depending on the type of cabinetry and hardware you'll be replacing.
Secondly, you must turn your desires into needs and determine your budget. By following this approach, you'll get a kitchen that fits your needs at the most affordable cost. This is the best way to remodel your kitchen while staying within your budget. Keep in mind that this process can take several months, so be sure to keep everything organized. Then, when the renovation crew arrives, be sure to prepare for the changes. It can be difficult to predict when work crews will arrive and whether they'll work around your home's current furniture.
Next, decide how you will use items in the kitchen. The kitchen is often an area where hot liquids and sharp objects are present. The best way to avoid these hazards is to add multiple outlets. Also, install ground fault circuit interrupters near water sources, as they will ensure the safety of the kitchen. If you plan to buy high-tech appliances, consider placing multiple plugs and sockets in strategic places. Then, designate a space for knives so that they're easy to find and keep out of reach of children. The design should include recessed slots that will hold knives and sheath their sharp blades.
When planning your kitchen remodeling project, decide whether to hire a general contractor or a designer. Working with a professional will help you get better rates on materials and help you decide which ideas are feasible and which ones are out of the question. Unfortunately, many DIY kitchens remodel projects end up disappointing and costing more than you expected. In other words, hiring a general contractor may be the best option, but it can be a very expensive mistake.
Smart appliances are another way to transform your kitchen. Smart taps and trash cans will make your kitchen more convenient and appealing. A professional lighting designer will add a touch of class to your kitchen. And if you want to stay within your budget, you can consider sticking with the layout that you have. Many people like to remodel their kitchens according to their lifestyle, so it's important to choose the right design that fits your lifestyle. This can help you maximize the value of your home.
If you want to make your kitchen appear larger, a reflective glass tile will be a good option. Reflective glass tiles will reflect light and create extra lighting for a kitchen. Using the right colors can also give the appearance of a larger space. Light pastel colors and white are the most effective colors for making a kitchen look more spacious. Lighter colors also draw the eye upward and create visual height. Adding more mirrors to the walls is a great way to make your kitchen seem larger and more open.
Before you start the kitchen remodel process, envision your end goal and decide on which materials and appliances you want. You can also consider adding a second sink, installing a decorative range hood, or upgrading your kitchen's overall layout. The entire process could take a few weeks to a few months, depending on the extent of the project. For starters, you'll need to decide on the cabinet door style and color. You can order sample cabinets for your kitchen to see which you like best.
Another option is to change the flooring. A new hardwood floor can add a contemporary feel to the kitchen. The same applies to tile and hardwood floors. Hardwood floors can be patterned to change the look of the room. Engineered woods can be more affordable than solid wood, but they aren't waterproof, so a waterproof finish is recommended. A new kitchen can also increase the value of a home. A kitchen can help sell a home in the future.